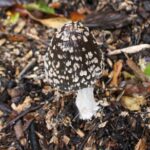 Despite a soggy Sunday morning in Sarratt a good number of us set off for an autumnal walk. The beauty of the Chess Valley really does not disappoint whatever the weather.
We were lucky enough to enter into the Old Rectory woods and spoilt with the lovely variety of trees and ground flora. The fungi at this time of year is in it's element and we found quite a few varieties. Some of us (well one of us) picked some 'chicken of the wood'  to take home to fry with butter and garlic. Unless you know your mushrooms do not try this at home !!
Thank you Will and Kate for sharing the woods with us and for such an informative and fun time.
Hope we can repeat this when the Bluebells come out to play!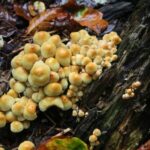 The final destination was Holy Cross Church for a coffee and piece of cake. Wonderful way to start the day.