Normally during this week the "Flowery Girls" would have been very busy as for many years they have worked with the Friends of Holy Cross to organise the Flower Festival on the last weekend of June to raise funds to maintain our beautiful 12th century church.
Due to the Corvid 19 crisis the festival has been cancelled.  However,  We have produced a Virtual Flower Festival covering twelve areas within the Church with over 100 Festival photographs from the last 10 years.
Please visit –  www.holycrossflowerfestival.co.uk
If you have fond memories of previous visits to our Festival please make a donation to the Friends of Holy Cross by visiting our page on Virgin Money Giving –  "The Friends of Holy Cross Church Sarratt". Thank you.
We hope you enjoy our virtual version and, like us, look forward to the 2021 event.
David and Marilyn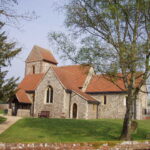 We all really look forward to the Flower festival in 2021!!