Hanging your clothes to dry rather than using a tumble dryer.
According to National Statistics, 60% of households own a tumble dryer (that's more than 14 million households!). On average, drying one load of laundry uses 4 kWh of energy, and emits 1.8kg of CO2.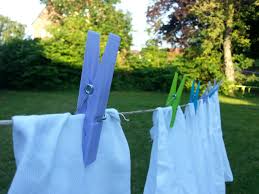 If every household that owns a tumble dryer dried one load of washing outside each week, it would save more than 1 million tonnes of CO2 in a year – fabulous!
Hanging it to dry inside is also a great energy saver, though not to quite the same extent as its easy to compensate by turning up the heating.
Give it a go – it's an easy win!