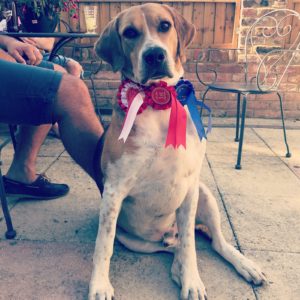 Hi everyone, my name is Bruno, I'm fairly new to the area, I was adopted by my new family about 18 months ago. I'm a 3 year old American Foxhound and I was found on the streets of Ireland, luckily I was picked up by a yellow van with Dogs Trust written on the side of it and my new parents saw me one day at their kennels in Harefield (I think it was love at first site).
I'm a bit moth eaten because I used to be part of a hunting pack, I've got the tattoos to prove it but it doesn't mean that I've lost my looks. I recently won 'Best in Show' at the dog show held at The Boot in Sarratt, I think it's the start of a great, flourishing new career for me and I look forward to strutting my stuff In the near future.
I miss all my friends in my pack, which is why I'm so friendly with other dogs, I don't think I was very good at hunting though because my sense of smell is terrible. Oh well who needs to work anyway when you've got a Mum and Dad like mine, being retired has it's benefits!!
My main hobbies are running with my Mum & Dad, sunbathing, playing, howling, eating, eating more, oh and did I mention eating.
My Mum and Dad recently brought home a new addition, she seems nice, very small though and doesn't say much but has stroked me a couple of times, she makes so much noise you wouldn't believe, so annoying during those quiet periods where all I want to do is sleep. Luckily I've got a soft nature though, so she doesn't affect me and I'm hoping that when she grows up we can play with one another and have lots of fun.
If anyone sees me out for my daily run around Sarratt or Chipperfield, please stop and say hello, with my new found fame, I kind of enjoy the attention.
Anyway I've got lots to do today, so I'm going to say goodbye for now.
Have a wooftastic day everyone!
Lots of licks, woofs and paws
 Bruno AKA Mr B ?