Community Garden April Update
It has been an unusual April – glorious sunshine on one hand, but desperate dryness and frost on the other – difficult conditions for growers! The Community garden has largely shrugged off these challenges and is showing an exciting glimpse of future bounty – peonies are showing good growth and huge promise, autumn fruiting raspberries are in leaf, rhubarb is looking robust..
The salads which will be a large part of the saleable produce are well underway – the greenhouse is planted up with 'lobjoit's green' ( a green crunchy cos), and 'cockade' (a deep red loose leaf), as well as flat leaf parsley. There are salads, chard, beetroot, and purple sprouting broccoli in the open air too, which seem to be coping with the frost very well.
The herbaceous border in the courtyard is taking shape – we have managed not to buy a single plant so far, thanks to donations of divisions and cuttings – particular thanks to Annie Griffiths and Rhona Beyer for these! With a bit of luck (and some RAIN) we should have a lively and floriferous border later in the year.
On the subject of rain, the 5000l rainwater tank is being installed and connected on Monday 26th. Huge thanks to SCCF for paying for this – it should provide all or most of our water going forward, though I'm not sure it will be able to catch up this year – I am definitely hoping for a proper deluge very soon! Until that moment, we are reluctantly watering from the mains, and mulching very heavily to preserve what little moisture remains in the soil.
On Friday 23rd we had a composting session – a new concept to many!! Very simply, anyone can turn up with something to compost – grass cuttings, leaves, peelings, animal manure, old cut flowers – and we mix it all up and leave it to rot down into beautiful crumbly compost for future use. I'm hoping to have one of these sessions each month or so – watch out for the boards outside the shop for details, and save us your compostables!! Thank you to all those who came along and/or contributed materials.
Bug houses – Jake Griffiths has made us the most beautiful bug hotel which is now on the huge brick wall – would anyone else like to make us any more? It would be so great to have a whole village of bug houses…No blueprint – use your imagination!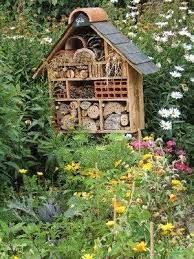 Whitewash – there is a section of wall that is truly hideous – we plan to scrape off the dead ivy, and whitewash it – does anyone have any whitewash hanging around that we could use?
Bees – none in the hive yet – May is the month for swarms and divides, and I am in touch with other local beekeepers  – fingers crossed! If you happen to find a swarm in your garden please ring me!
  If you would like to be involved or have any questions, please contact:
Flo (floragarveytutoring@icloud.com)
OR
Alan (alanmilsom456@btinternet.com)