Cordite and Castrol R
Introduction – It has taken me about four years to get to the point of publishing. Originally, I just wanted to record my life's story primarily for my grandchildren.
A visiting soldier, seriously injured in Afghanistan, convinced me I should publish and said we really need inspiring examples of being able to enjoy a normal and successful life both in terms of family and business after recovering from horrendous injuries.
I have split the book into three sections – Personal, Sport and Business so you can choose what is of interest to you.
Available on Amazon Books – Click Here
Chuckle Books – Volume One
Introduction – Everyone enjoys a good laugh. I have been collecting jokes, quotes and amusing stories for over ten years with the objective, upon my retirement, of creating and publishing a collection of Chuckle books to raise money for a charity.
Well, here is the first volume. Enjoy
Polite Warning: Some of the jokes are a bit risqué, others probably not Politically Correct. By the end of the last chapter I will certainly have offended all religions, most Nationalities, every blonde, old people and even some animals.
Don't say that you haven't been warned.
So if a joke offends you, please chuckle anyway and enjoy the next one!
Available on Amazon Books – Click Here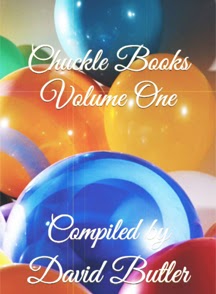 All sale proceeds from these books to our local charity "Pepper – Children's Hospice at home" as they are so short of funds.