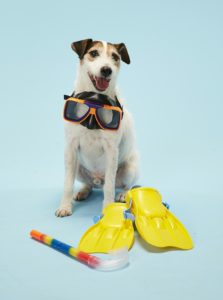 Hi Everyone, I'm Freddie. I'm a Parson Russell (that's a posh type of terrier)
I first came to live in Sarratt as a young whippersnapper at 9 months old. I had got myself into a fair amount of trouble before then and already had 5 homes before Mum rescued me. Mum said it wasn't my fault and it was my genetics. I don't know what those are or if I still have them but some other parts of me got taken off as Mum said it would help me to calm down. It didn't work.
I could tell you a lot of stories about my life growing up at Green End Farm as I had loads of adventures and I made good friends with the local game keeper. I knew he liked me as when he saw me he would run about and shout with excitement. Mum had to buy him beer.
I am a changed character now and I really try to behave well and set a good example. I work at a vets in Northwood as does my sister, Lottie, and I help Mum with other dogs who have problems being good. I am also a model for fashion companies such as Boden and Charles Tyrwhitt and I have an agent called Melody who organises my photo shoots. I get paid in cocktail sausages. I'm quite famous so when I am out on patrol people like to stop and meet me.
Last summer was my 10th birthday so Mum arranged a pawty for me at my favourite pub, The Boot. All my friends came along and we had so much fun and I had a special birthday cake. I got so many presents! I loved all of them but I did choose to give some of them to some dogs I know who have to live at a kennels while they wait to find their family.
Well I have to go now as I have a very busy schedule.
Lovely chatting with you all and I hope to see everyone at Sarratt Village Day on Sunday!! Cannot wait to try the strawberries and cream !!
ps…. I am available for pawtographs at the Dog Show.
Lots of love from Freddie xxx