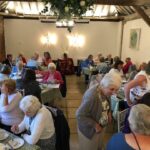 Sarratt WI Summer Activities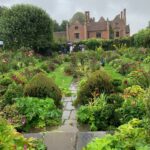 On one of the hottest days of the summer the 24th July to be precise, our group of Sarratt WI members met for our monthly walk, it was far too hot so we opted for a shady short walk then a lovely lunch in the cool at The Boot.
On the afternoon of the 14th August, albeit in the pouring rain we attended the wonderful surroundings of Chenies Manor for a delicious afternoon tea.  The sandwiches were delicate and delicious, cream cheese and ginger was a favourite, scones light as air and the cakes varied and plentiful, whilst pots of tea kept being replenished. It has become an August tradition to indulge in an afternoon tea, which we all very much enjoy.  The rain eased a little and we looked round the beautiful lush gardens, such a pity there was no sunshine to enhance it even more. We also looked in the art gallery at the various paintings on exhibit.
Our President, Leone, addressed the meeting handing out pretty floral birthday buttonholes for our July and August birthdays members.  She then reminded us of events to come and of the next two meetings in Sarratt Hall.
Wednesday the 11th of September – Manoj Malde. A garden Designer's Journey to Chelsea
Wednesday the 9th of October – John Stirling, actor and producer – From Theatre to Buckingham Palace
Fancy Joining Us?
The Sarratt WI meet twice a month:
On the second Wednesday of each month in Sarratt Village Hall from 2.15 – 15 p.m. Enjoy a talk followed by home-made cakes and tea.
On the fourth Wednesday of each month for a walk and lunch in a local pub.
We also have adhoc craft, new skill workshops and exciting trips as part of the mix.  You would be welcome to join us for a meeting to see if you would like to become a member.
If you would like to find out more, please call Leone Ashby on 07894 421748.